There's a good reason why Rome is one of the world's top tourist hotspots. The Colosseum, the Trevi Fountain, and the Vatican are just a few world-famous attractions in this metropolis. Rome indeed has crowds and high costs, but so does any large city. These are a few off-the-beaten-path spots in Rome that you should take notice of if you're searching for a more authentic Italian experience.
Include these best-kept Rome secrets on your itinerary, whether you're interested in visiting lesser-known institutions, breathtaking vistas, or eateries beloved by the locals.
Domus Aurea
Now, in order to raise money for continuing renovations of the historic villa, the public has been given access to the spectacular archeological site that is Emperor Nero's Golden Palace on the weekends via guided tours. When a devastating fire in 64 AD flattened most of Rome, a massive palace was constructed over many of the city's iconic Seven Hills, including the Palatine, Esquiline, Oppian, and Caelian hills. It eventually grew to include as many as 300 rooms. One of the most lavish mansions ever constructed, it was adorned with priceless stones, gold leaf, stucco, and frescoes.
Vicus Caprarius (The Water City)
Although it's just a short distance from Rome's most famous attractions, the peaceful and charming Vicus Caprarius seems far removed from the city's hubbub. These ancient remains, which were lost for centuries until being unearthed in 1999, provide a fascinating glimpse into Rome's (figurative) strata. Water still flows through the structure thanks to the impressive Ancient Roman plumbing that is on full display for visitors.
While Vicus Caprarius is one of the most offbeat things to do in Rome, it is so popular that reservations are required on weekends and maybe other days during the busy season.
Villa Medici
The house is located near the Spanish Steps and provides a breathtaking view of Rome, home to the French Academy. It was commissioned in 1540, and subsequent owners included Ferdinando dei Medici in 1576 and Napoleon in 1801.
It's a hidden gem of Rome that many tourists from outside of Europe have never heard of, yet it's been a go-to for many artists and writers throughout the continent for decades. French masters, including Boucher, Fragonard, Berlioz, Debussy, and even opera house designer Charles Garnier studied at this institute.
At present, the house is home to as many as 19 French-speaking artists and musicians who have frequent exhibits and concerts there.
During this guided tour, you will get to view the Cardinal's painted apartments and explore the grounds spanning 18 acres. One may get paninis and another light fare at the chic café. This is one of Rome's best-kept secrets, and now you can see why. The massive white Monumento Nazionale a Vittorio Emanuele I may be seen to the left, but otherwise, the vista is unobstructed and breathtaking.
Borromini's Perspective
Despite its peculiar nature, Borromini's Viewpoint is one of the most intriguing hidden locations in Rome. The gallery gives the impression of being much larger than it really is.
Nonetheless, its optical length is closer to 37 meters, making it seem much longer than its 8-meter length. The 60-centimeter-tall Roman warrior stands on a rising floor under a lowering roof supported by increasingly shrinking lateral columns.
Optical illusion commissioned by Cardinal Spada and installed in a patio of the Palace Spada shaded by orange trees. He enlisted the services of a mathematician and the Baroque architect Francesco Borromini to design it.
One of the greatest treasures in Rome is the Palazzo Spada itself. This fascinating space's art, sculpture, and furnishings belonged to Cardinal Spada. Frame to frame, 17th-century style paintings by Rubens, Titian, Caravaggio, and Brueghel the Elder are on display.
The Mouth of Truth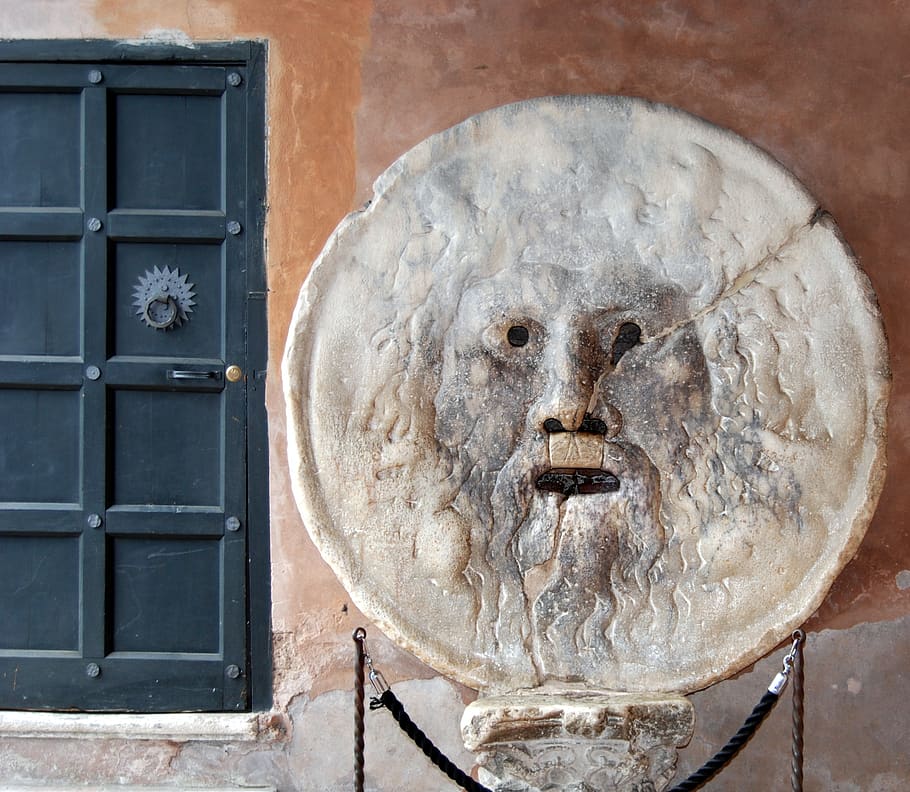 There is a statue of a face known as the Bocca della Verità, or "Mouth of Truth," at the entrance of Santa Maria in Cosmedin. Others have speculated that the sculpture was once a maintenance hole cover or maybe a piece of a Roman fountain, but no one knows for sure.
This well-known structure in Rome may symbolize the deity of the Tiber River. From the Medieval Ages, it was widely believed that the sculpture's jaw would snap shut on a liar if they put their palm within its gaping maw.
Gregory Peck staged a sequence with Audrey Hepburn in which he pretended his hand had been bitten off in the classic film Roman Holiday. Corner Townhouse is conveniently located nearby and is a great post-game meal spot.
As it befits a city with a history stretching back millennia, Rome has almost unlimited monuments and sites spread out throughout its spacious area. Although many of them are must-sees for visitors visiting the Eternal City, there are some hidden gems that not even Romans know about. In this article, we've covered some of the capital city's most interesting secret spots. Here's hoping it's of use to you!
Lastly, read more about travel around the world here.